DISCLAIMER: THIS IS NOT MEDICAL ADVICE! We do not employ doctors or licensed medical professionals, so we do not provide medical advice. Nothing presented here is a substitute for the advice of a DOCTOR or other licensed health care provider. Never stop, start or add medications or supplements to your health or mental health care regime without first checking for interactions or other problems, and thoroughly researching the substance. Before you employ any information here, consult your health care professional. No information here is the result of valid clinical trials.
Fibromyalgia & Chronic Pain Resources
Alternatives to Drugs for Fibromyalgia, Chronic Pain
and Other Chronic Health Problems
Alternatives to Drugs for Fibromyalgia, Chronic Pain and Other Chronic Health Problems
Contrary to what the public is being led to believe, there are natural, effective treatments for fibromyalgia (FM) and chronic pain.
Functional and holistic medicine views and treats chronic health problems, including chronic pain, FM, anxiety and depression, completely different than the conventional medical community. Functional medicine looks for, and naturally addresses the underlying root causes behind chronic illnesses.
Fibromyalgia and other chronic illnesses can have many underlying root causes/triggers, including infections, chronic systemic inflammation, toxicities, breast implants, imbalances, poor gut health/leaky gut, sensitivities, deficiencies, genetic mutations, physical or emotional trauma, poor coping skills, metabolic dysfunction or combinations of these factors and others that overload the body to the point it can no longer detoxify and recover on its own.
Even the drugs prescribed to "treat" fibromyalgia can actually cause the condition, which is explained in this quote from Ann Blake-Tracy's book Prozac, Panacea or Pandora, Our Serotonin Nightmare: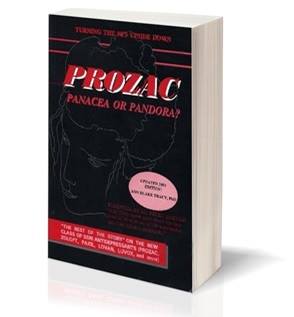 "Serotonin was originally given its name due to its ability to constrict blood vessels. In the 50's injections of serotonin were given to women to induce labor. Serotonin constricts muscles leading to muscle damage. Muscle damage was one of the first problems discovered as a result of using SSRIs. When you attempt to use a constricted muscle it rips and tears. From the first SSRI we have gathered more and more reports of muscle damage and fibromyalgia.
Fibromyalgia is very common with serotonergic meds because the cause of fibromyalgia is known as a condition of elevated serotonin levels brought on by an inability to metabolize serotonin. Because the SSRIs work in this way they do produce fibromyalgia as a side effect and after effect. This constriction of muscle tissue is also why there are many bowel problems associated with the serotonergic drugs. Because 90% of serotonin is in the abdomen when serotonin levels rise the gut clamps up causing the elimination process to stop resulting in constipation."
The cornerstones of natural health management are clean diet, nutrition, supplements, good gut health, and other healthy, positive lifestyle changes.
Natural management takes time, commitment, consistence and persistence, but it is well worth the effort. Drugs mask the underlying root triggers of FM while the root health problems, and the drugs continue to damage the body and take down more body systems (aka accompanying conditions).
Don't abdicate control of your health to someone who may or may not be knowledgeable.
Please vet and screen the physician or medical professional in whom you place your trust. There are good and bad functional doctors, just as there are good and bad conventional doctors. Do your due diligence. Listen to your gut. Does the doctor listen to you and consider you as part of the team? Does he/she look in your eyes and really listen to you?
NOTE: This file is for educational purposes only and is not intended to replace the advice and guidance of a qualified medical professional. Neither CHW, nor its admins and moderators are recommending these doctors, treatment facilities, or treatments. However, we are providing this information so our members can see alternative views on the causes and treatments of pain-causing conditions and participate in their own healing.
---
HOMEWORK: Watch these movies!
---
FUNCTIONAL & HOLISTIC vs. CONVENTIONAL MEDICINE
---
Functional Medicine's views on Fibromyalgia: Root Causes/Triggers
---
FINDING A NATUROPATHIC PHYSICIAN
---
CONVENTIONAL DRUGS FOR FIBROMYALGIA
Cymbalta claims for fibromyalgia attract FDA warning: Ineffective for men; benefits over-exaggerated for women
Eli Lilly & Co. were warned that despite FDA approval for use of Cymbalta (duloxetine) for fibromyalgia, their promotion of the drug for such patients was misleading and often overstated its effectiveness and omitted or minimized information regarding potential side effects. Cymbalta did not improve any symptoms in male patients, and there was no significant improvement in FIQ pain scores in the patients as a whole.
---
SUPPORT on FACEBOOK
---
UNDERLYING ROOT TRIGGERS/CAUSES to test or look for
(All can be addressed and managed naturally)
Chronic Systemic Inflammation
Deficiencies (nutritional)
Emotional trauma
Genetic Mutations (MTHFR gene mutation)
Imbalances (thyroid, adrenal, pituitary, hormonal, etc)
Infections (Lyme, West Nile, etc)
Physical trauma (spinal alignment problems, injuries, etc)
System overloads (candida, mycotoxins, parasites, toxic foods, etc)
Sensitivities and Allergies (foods, environment, etc)
Toxicities (heavy metal, breast implants)
---
DIET
Hippocrates ~ "Let food be thy medicine and medicine be thy food."
The meaning of optimum in OPTIMUM DIET is the diet which best supports recovery from illness and maintenance of health.
This support also includes optimum energy, athletic performance, mental power and endurance, preventing degenerative disease and staying young. The majority will have to adopt a new way of thinking about food in order to benefit from good nutrition. Food choices and dietary practices can strongly promote health; but also strongly prevent resolution of disease. For some people, their health condition is urgent and there has to be immediate radical dietary changes; others will have some time to transition into better health. A multitude of seemingly authoritative voices struggle for first place in the current marketplace of ideas; and one can find a voice saying what one wants to hear.
"When diet is wrong, medicine is of no use. When diet is correct, medicine is of no need." - Ayurvedic Proverb
---
AVOID THESE !
Alcohol
Artificial Sweeteners
Caffeine
Corn
Corn syrup and high fructose corn syrup
Dairy
Fast food
Foods labeled "natural" or "fat free and sugar free"
Genetically modified organisms (GMOs)
Gluten
Nicotine
Night shades (white potatoes, tomatoes, peppers, eggplant)
Red Meat (unless it is grass-fed)
Refined foods
Simple carbohydrates
Soy
Sugars
Trans fats
---
HEALTH FROM A-Z
---
ACUPUNCTURE
---
ADRENAL FATIGUE
---
APPLE CIDER VINGEGAR
1/6 tsp sea salt with 10oz water 6x daily
---
AROMATHERAPY/ESSENTIAL OILS
---
BLACK MOLD
---
BREAST IMPLANT ILLNESS
---
CHIROPRACTICS
---
COUNSELING
---
COGNATIVE BEHAVIORAL THERAPY
---
DEPRESSION/ANXIETY
A Mind of Your Own by Dr. Kelly Brogan, Holistic Psychiatrist:
Sunshine - 20 minutes daily
Light exercise as tolerated, yoga, T'ai Chi, Qigong, gentle stretching, aqua workouts, walking
Light box
Aroma Therapy (Lavender)
Breathing Exercises: counted breathing, diaphragmatic breathing
Cognitive Behavioral Therapy (CBT) and (DBT)
Eye Movement Desensitization and Reprocessing (EMDR)
Alternative Daily: 5 Natural Ways to Kick Anxiety Naturally
---
DETOXING
Detoxing while in withdrawal is not recommended because it can be harsh on an already compromised system, and produce even more uncomfortable physical symptoms.
Many detoxes produce a "flush" which stirs up toxins and causes abdominal distress.
The best way to begin detoxing while in withdrawal is to eat clean, remove refined foods from the diet, and eat liver cleansing foods.
23 Great Ways To Painlessly Cleanse Your Whole Body from RealFarmacy.com
---
ELIMINATION DIET & FOOD JOURNAL (to discover food sensitivities)
---
EMOTIONAL FREEDOM TECHNIQUE
---
(EFT)/TAPPING:
---
EXERCISE
Gentle stretching
Yoga
T'ai Chi
Qigong
Water Aerobics
The Bowman Technique
---
EYE MOVEMENT DESENSITIZATION AND REPROCESSING (EMDR)
---
HEADACHES/MIGRAINES
---
HEAVY METAL TOXICITY
---
HOBBIES
---
INSOMNIA
Magnesium & Calcium
Nutmeg
Noni juice - Organic Facts: 15 Impressive Benefits Of Noni Juice
Avoid sugar, caffeine and alcohol
Passion Flower
Turn off all lights
Remove electronic stimulants for a couple of hours before bedtime (TV, computer, cell phone, etc.)
Epsom salt soak
Aromatherapy with essential oils
Music therapy - YouTube
Breathing exercises (counted breathing)
Raw Honey
---
IRRITABLE BOWEL SYNDROME
---
JUICING & GREEN SMOOTHIES
Juicing and smoothies should be introduced slowly when in withdrawal and detoxing from medications. If introduced too rapidly, they can produce a flush which can be quite hard on an already compromised system.

Fat, Sick and Nearly Dead

Juice Recipes -

https://www.juicerecipes.com/recipes/
---
LAB TESTS
Amino acid analysis
Heavy metal analysis
Intestinal permeability
Vitamin/mineral tests
Comprehensive parasitology
IgG tests for food hypersensitivity
ELISA/ACT for delayed reaction to foods and chemicals
Hormone analysis
Thyroid analysis
Lyme Test
MTHFR gene mutation test
---
LEAKY GUT/POOR GUT HEALTH
---
LYME DISEASE
---
MASSAGE
---
MEDITATION & BREATHING EXERCISES
---
MTHFR GENE MUTATION
---
MYOFASCIAL RELEASE
---
NERVE PAIN/NEUROPATHY
---
ONLINE HEALTH STORES for discount supplements and organic foods
---
PARASITES
---
PHYSICAL THERAPY
---
PROBIOTICS/CULTURED & FERMENTED FOODS
---
SAUNA/FAR INFRARED SAUNA
---
SLEEP
Note: If you are in withdrawal, taking supplements that affect serotonin is not recommended.
Visit https://yourfibrodoctor.com/ for suggestions.
Breathing exercises for sleep
---
SOAKING
---
SPIRITUALITY (mind, body AND spirit healing!)
---
STRESS, EMOTIONAL TRAUMA, PTSD, CPTD
---
SUPPLEMENTS
We are supposed to get our nutrients from foods, but because our foods are lacking nutrients due to processing and soil depletion, and people with FM have compromised immune and digestive systems that are not functioning properly, supplemental support can be an important part of addressing the underlying root triggers.
Magnesium:
Magnesium Benefits
Magnesium Pain Relief
Vitamin D
Fish oil or Flax Seed Oil/Omega 3
Liposomal Glutathione
L-glutamine
B Vitamins
HERBS & SPICES for pain and inflammation:
- Curcumin/Turmeric
- Ginger
- Tart cherry juice
---
TENS UNIT
---
THYROID
Visit https://yourfibrodoctor.com/. You will find help there.
---
TOPICAL OINTMENTS, CREAMS and OILS
Magnesium Oil
Arnica
Essential Oils: Peppermint, Wintergreen, Clove, Nutmeg, Corriander
Capsaicin
---
VOLUNTEERING
Volunteering and its Surprising Benefits
---
WATER
---
OTHER RESOURCES
Looking for help with something?
Search our site below...
Please take the time to report your adverse symptoms from Cymbalta and Cymbalta withdrawal to the FDA. Call 1-800-332-1088

© 2019 Healing America Now
4