DISCLAIMER: THIS IS NOT MEDICAL ADVICE! We do not employ doctors or licensed medical professionals, so we do not provide medical advice. Nothing presented here is a substitute for the advice of a DOCTOR or other licensed health care provider. Never stop, start or add medications or supplements to your health or mental health care regime without first checking for interactions or other problems, and thoroughly researching the substance. Before you employ any information here, consult your health care professional. No information here is the result of valid clinical trials.
Cymbalta Hurts Worse is a support group for members who are planning to come off Cymbalta / Duloxetine, are already following our recommendations or have already completed their taper.
We provide very clear tapering guidelines and many resources for information. If you are looking for the safest way to get off Cymbalta/Duloxetine, please start with our file on recommended tapering methods:
http://www.healingamericanow.com/chw-tapering-guide/
We are an anti-pharma group:  we are against Cymbalta / Duloxetine and all psychological and pharmaceutical drugs.
This group is growing rapidly as doctors rarely warn their patients about the problems of withdrawal and have no idea how to deal with them.
Please read the Tapering Guide (above) if you are considering getting off the drug. It is the safest way we know, with the least withdrawals.
You will find many documents on this website and some less read in the Cymbalta Hurts Worse group Files. If you are not already a member of CHW please do join us and make a new post if you need more information.
Cymbalta Hurts Worse allows posts and comments from all members.  We do not allow you to make pro-pharma comments, for Cymbalta or other drugs, to recommend going cold turkey or discuss controversial topics such as kratom, LDN, marijuana, CBD oil.
Some of these products may be able to help and we aren't necessarily against them.  But they are a distraction from our mission of supporting a safe and easy taper.
About the Admin and Moderators
We are all volunteers with personal experience of this drug, most are still fighting the taper battle.
Their role is to keep members safe.  Sometimes, they will delete a comment or decline a post because it can potentially damage a member.
1. MISSION STATEMENT AND WARNING
CHW is a mission-driven withdrawal support group of non-professionals giving information on SAFE tapering. Suggestions here should not replace working with a KNOWLEDGEABLE doctor. Never stop, start or add medications or supplements without research.
---
2. TAPERING PHILOSOPHIES AND POLICY VIOLATIONS
Cold Turkey, decreasing rapidly and every-other-day discontinuation: we do not allow any recommendations which are against our slow, steady tapering policies. Posts are approved by moderators and action taken against members who break the rules.
---
3. PRO-CYMBALTA, PRO-PHARMA AND BRIDGING
We do not allow recommendations in favour of Cymbalta or any other psychotropic and pharmaceutical drugs. This includes reporting personal success on the drugs.
---
4. SHUTTING DOWN COMMENTING ON POSTS
An admin. or moderator may turn off commenting on any post at any time. Please trust your moderator to do this only with good reason.
---
5. UNACCEPTABLE BEHAVIOR
Blocking an admin/moderator will result in removal. Abusive or offensive posts, vulgar language, arguing or making personal attacks on admins/moderators or other members will not be tolerated.
---
6. COMPLAINTS AND GRIEVANCES
Airing complaints or grievances against CHW members or volunteers on the Discussion Wall is not allowed.
---
7. PRIVATE MESSAGING
Do not private message other members without asking in the Discussion first and waiting for the member to agree.
---
8. RECOMMENDING SUPPLEMENTS, PRODUCTS OR PROTOCOLS
Please do not try to sell or promote any products. Do not recommend other methods of tapering than those in the CHW Tapering Basics guide.
---
9. CONTROVERSIAL SUBJECTS: MMJ, KRATOM, TMS, LDN, ETC.
We do not allow promotion or discussion of vaccines, Medical Marijuana, CBD, Psilocybin Mushrooms, Kratom or Transcranial Magnetic Stimulation, genetic testing for anti-depressants, Wild lettuce or similar.
---
10. POSTS REFLECTING PREJUDICE
Any abuse aimed at members of a particular religion, political party, nationality, sexual grouping etc. is not permitted. Inflammatory posting of any nature will be removed.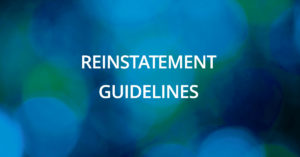 There is only a 2 (possibly 3) week reinstatement window where it is (somewhat) safe to go back onto the drug to try to reverse the withdrawal, but only if other drugs have not been added and the person did not alternate days more than 2 (possibly 3) weeks. After that window passes, the person is left to deal with whatever comes their way. There is no known "cure" for protracted withdrawal once it settles in. It just takes time to resolve on its own.
Read More
Looking for help with something?
Search our site below...
Please take the time to report your adverse symptoms from Cymbalta and Cymbalta withdrawal to the FDA. Call 1-800-332-1088

© 2019 Healing America Now
4